myESS has gone mobile!
Get all the benefits and functionality of myESS straight to your smartphone. View your latest payslip and all your historical payslips and P60s using our myESS App.
Watch our short demonstration video here>>

Download the App now from the Google Play Store by clicking here:
https://play.google.com/store/apps/details?id=com.Ardbrook.myess
Preview and Download the App now from Apple Store by clicking here:
https://itunes.apple.com/ie/app/myess/id1080618099?mt=8
 
To view samples from our Demo site – click the Demonstration button on the App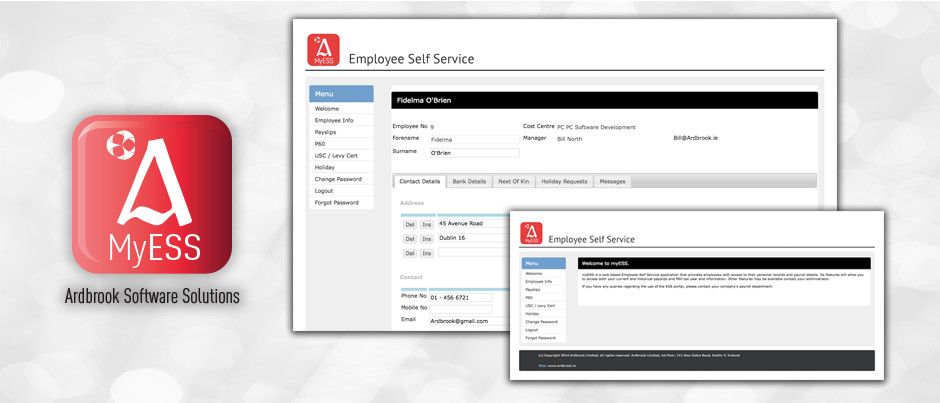 myESS
Employee access to both current and historical payslips and P60s over the web
Enable employees to access their payslips and P60s for any pay period and tax year using any web enabled device – phone, tablet or PC.
Employees can print their payslip/s and P60/s to their own local printer when required
Who can use myESS?
No matter what payroll software you use, you should be able to upload payslips to myESS for employees to access securely.
If you want to reduce distribution costs, eliminate interruptions and increase flexibility for your employees – myESS is the solution.
Flexible and Efficient
myESS means employees have secure access to a full history of payslips and P60s over multiple tax years at any time and from any web enabled device.
There are significant reductions in payslip and P60 distribution costs to an employer coupled with increased flexibility for employees.
Eliminate Interruptions
myESS retains a full history of all payslips and P60s uploaded to it so employees can access their payslips and P60s from any prior period or tax year without the need to interrupt the Payroll Dept. requesting historical copies.
Real Benefits
Employees benefit because they have secure and easy access to payslips and P60s.
Employers benefit because distribution costs are greatly reduced and requests for payslips and P60s are eliminated.
Secure
myESS makes payslips and P60s available as HTML pages unlike PDFs which leave a temporary copy on your device so, as soon as you close the page the page disappears completely from your browser so your pay details remain confidential.