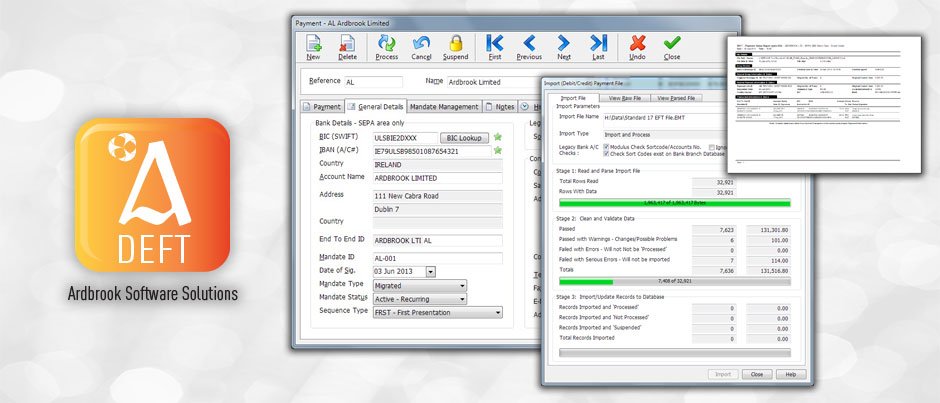 DEFT's SEPA XML files have been fully tested and approved by all Irish Banks
DEFT is now being used by 100's of Irish and UK customers, including AIB and Bank of Ireland
You retain full control of your Customers and Suppliers confidential Banking details. Everything is done on your own PC or Network where you can have complete control over access and security.
The only data you send is to your Bank. Nothing goes to any third party or cloud service where it could be inappropriately accessed  or released.
DEFT can handle all aspects of switching your data for use with SEPA
DEFT can work with Standard 18 and BACS format EFT files as well  as CSV files containing SEPA &/or User defined fields
CSV files can be used to pass all data between your legacy system and DEFT both before and after processing with your Bank
Update your legacy system for SEPA when it suits you – in the meantime DEFT will handle all BIC, IBAN & Mandate Details
DEFT fully supports the Irish SEPA Business Scheme (SBS), identifying Direct Debit transactions as not automatically refundable
To find out more about DEFT can be used to meet your SEPA requirements follow this link SEPA with DEFT – Options and Conversion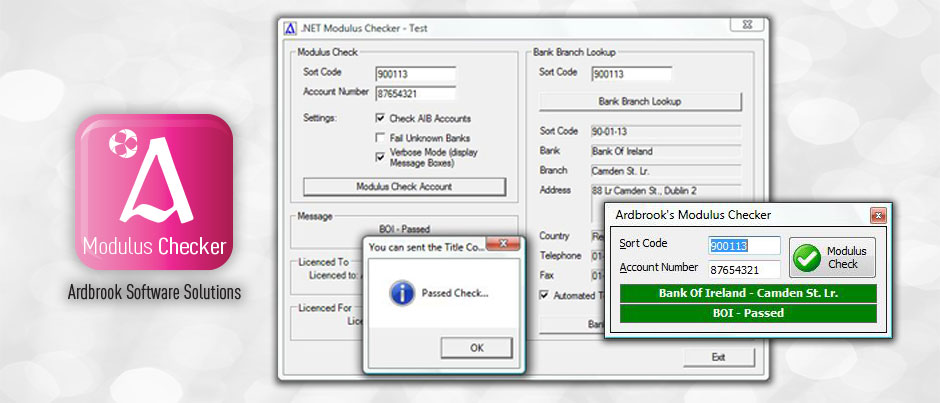 Modulus Checker is software developed by Ardbrook Limited and, with our unrivalled 25 year experience of the Irish Banking sector that enables the user to validate the accuracy of any sort code / bank account number combination, for the clearing banks within the Republic of Ireland and Northern Ireland; Credit Unions and most other non-associated banks. This is achieved by running in reverse the internal algorithms of each of the clearing banks on the sort code / bank account numbered entered. Each of the clearing banks within the Republic of Ireland has developed it's own algorithms to validate the existence of a sort code / account number within their individual branch networks.
The purpose of Modulus Checker is to ensure that when electronic files are sent to the banks there is an absolute minimum of user input errors, regarding non-existent sort code and account number combinations, thus dramatically reducing the number of returned payments, and consequently and importantly reducing bank charges.
Modulus Checker is available in two versions and both contain a complete user-maintainable database of all bank branches within the Republic of Ireland and Northern Ireland.
As an on-screen "floater", it allows the user to key in a sort code and account number combination and the software will immediately validate, giving a pass or fail verdict.
There are two DLL versions available, .NET or Active X. As a DLL, it allows the user to call the validation routines within Modulus Checker directly from within their own software. This necessitates a software change to be made to in-house systems to allow for immediate validation, on the input of a sort code bank account number combination through an […]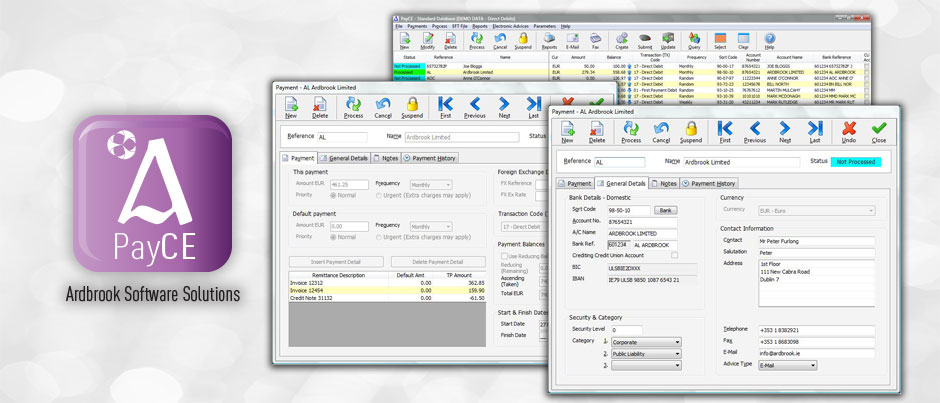 4 versions to suit your requirements – Lite, Standard, File Import and Plus.
Quick to set up and easy to use.
Eliminates some of the costs incurred in bank fees, administration and reconciling payments.
Use for Debits, Customers, Fees & Membership, Leases, Loans & Rentals, Insurance Policies, Charities , Draws, Credits, Suppliers, Payroll, Pensions, Employee Expenses.
Import debit/credit transaction details from account packages, databases and spread sheets.
Comprehensive security Full Audit Trail available for all changes to database.
Multi database and multi-user options.
Unlimited debits and credits.
3 Balance types catered for.
Full transactional history available.
Full bank account validation using modulus checks defined by the banks.
Email, fax or print your Remittance or Debit Advices.
Can generate payment files in a variety of formats including BACS and HSBC.